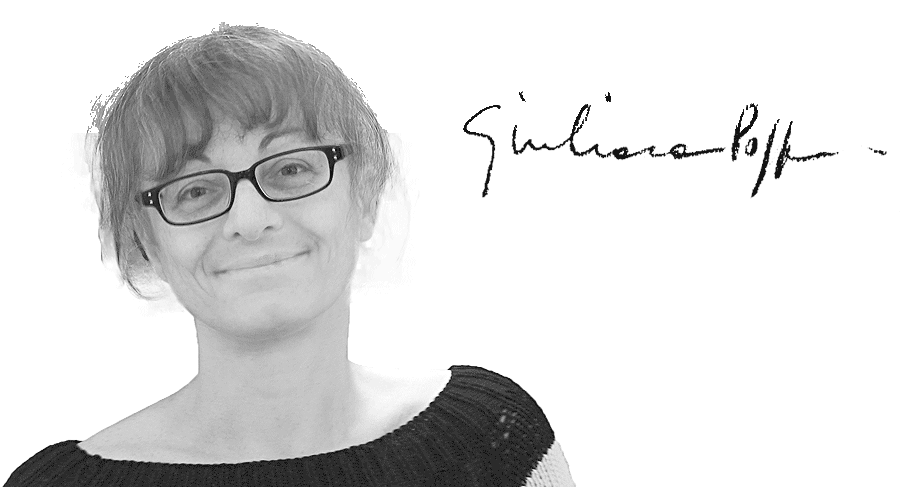 Sono Giuliana Poggi

e da anni mi occupo di scultura con particolare attenzione ai materiali ceramici.

Vivo e lavoro in una città di mare ed è naturale che questo elemento sia diventato per me la maggiore fonte di ispirazione. Modello sirene, nuotatori, delfini, creature acquatiche dalle più svariate forme e colori e dipingo fondali marini, paesaggi tropicali, spiagge e vele al vento.

Unisco la pittura e la scultura per creare degli abbinamenti particolarmente indicati per l'arredo sia di abitazioni sia di interni nautici. È possibile eseguire ogni lavoro su richiesta, concordando soggetti, particolari e dimensioni.
Le mie opere sono montate su plexiglass.

Questo materiale, grazie alla sua leggerezza e luminosità, conferisce eleganza ad ogni ambiente e permette di risolvere le più diverse esigenze di installazione.
My name is Giuliana Poggi

and I am working in the field of ceramic sculpture since from many years.

I live in Genova and being environed by the sea this element naturally become the outstanding source of my inspiration. By modelling clay I give shape to mermaids, swimmers, dolphins and many other various and coloured sea inhabitants; by painting too I lay on canvas sounding-depths, tropical landscapes, shores and sails.

Melting painting and sculpture gives me the oportunity of creating settings particularly fit for home and yacht interiors. Every work can be executed on demand arranging with customers subjects, details and dimensions. Plexiglass is a good support I often use to assembly my works.

Thanks to is lightness and brightness it gives a touch of elegance to all settings and satisfies most different requirements concerning installation.

Giuliana Poggi | Studio di scultura | Via Dei Landi, 1/79 | Genova | +39. 347. 03 64 913 +39. 010. 64 51 236 | Cookie Policy | Privacy Policy